ALL OF THE FUN
(WITHOUT THE SLEEPING BAG)
We are very excited to still be able to offer smaller-sized Day Camps to you this summer!
We are looking forward to a great summer outside, making new friends, staying safe, having fun and learning about the Lord Jesus at camp!
* Once you have completed the registration process, you will automatically receive a confirmation email. Please take the time to find this email (it may be in your junk/promotions folder) and to read through the provided information.
Day Camp Information
Age: 6-12 years old
Cost: $120 + GST per child
Time: To accommodate social distancing during drop off and pick up, there are two time slots to pick from: (1) 9:00am – 4:00pm or (2) 9:15am – 4:15pm
Please note:
Day campers are only eligible to register for one camp each
MSBC will not be offering the shuttle service from Kelowna this year
Schedule may be subject to change
Due to demand, campers are only eligible to attend one camp session
Sponsorship Available
Frequently Asked Questions
"Do I need to pack a lunch?" No. Lunch, snack and canteen are included in the registration fee. Lunches are camp classics like taco salad and pizza with lots of fresh veggies to choose from. Snacks are typically fresh fruit and a cookie. Canteen is one glass of pop and one treat from our snack shop like a chocolate bar, a box of smarties, a popsicle, or an ice cream sandwich.
"Are you running the bus this year?" Unfortunately, no. Our apologies! If you are in need of help with transportation, please reach out to me and I'd be happy to discuss helping you set up a carpool.
"I need to be at work at 9:00. Can I drop my camper off early?" Unfortunately, no. We are operating an intentional discipleship program with our staff members which includes an early morning Bible study before breakfast. They are unavailable to supervise until the assigned drop off time.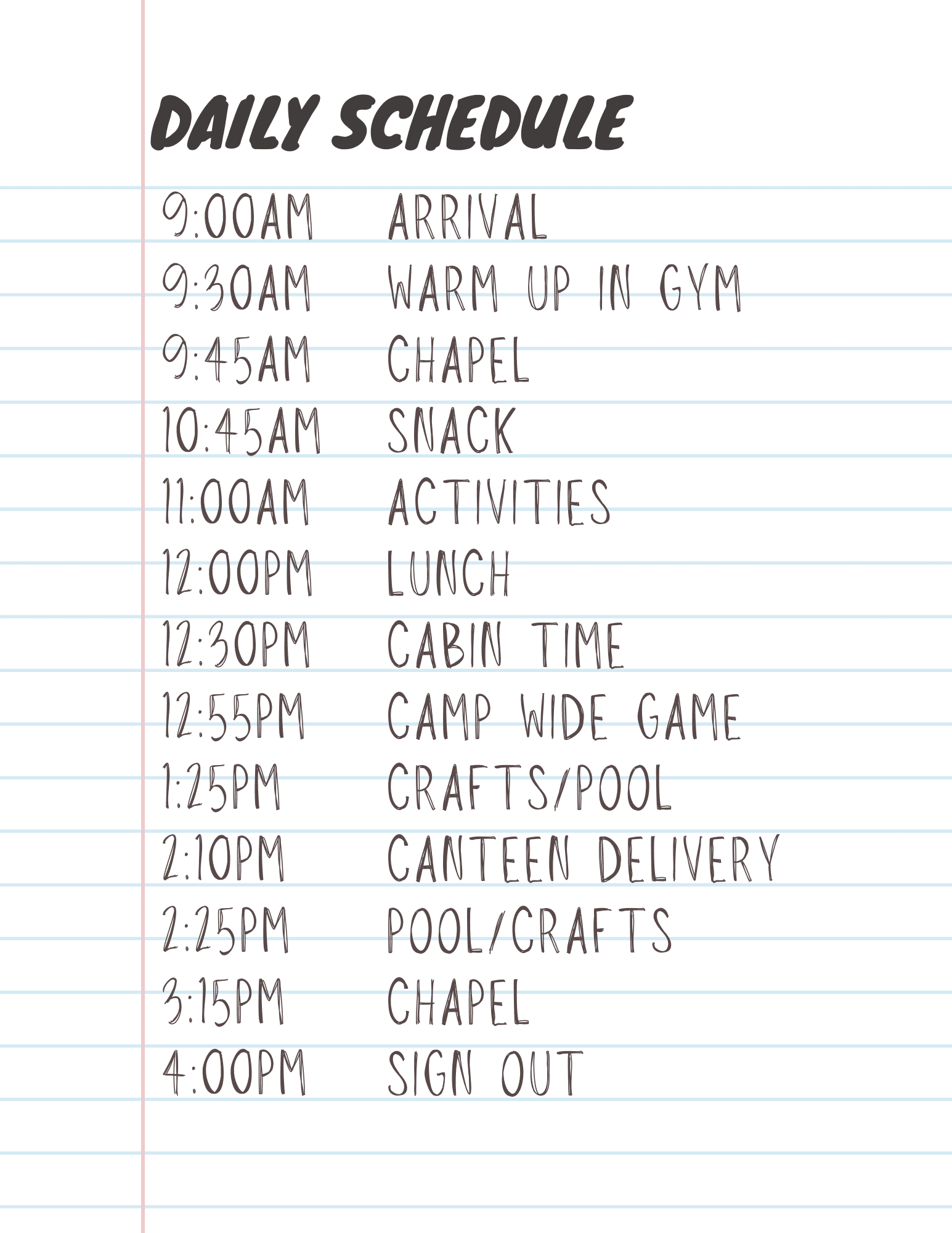 Day Camp 1: July 18 – 22, 2022
Day Camp 2: July 25 – 29, 2022
Day Camp 3: August 1 – 5, 2022
Day Camp 4: August 22 – 26, 2022
Day Camp 5: August 29 – September 2, 2022
PLEASE BRING
running shoes

modest swim suit and towel

waterbottle and sunscreen

change of clothes

Bible

prescription medication that your camper will need to take while at camp (see note below)
PLEASE DON'T BRING
Money

Cell phones,

iPods and other MP3 players

Gaming devices, l

aptops or tablets

Alcohol or narcotics or n

on-prescription medications

Pocket knives, blades, etc.

Pets

Any other material which might be inappropriate for a children's Bible camp
REMEMBER
Please label EVERYTHING that comes to camp so they have a better chance of returning home with your camper or so that we can get it back to you if anything gets lost. Commonly left-behind items are towels, hats, shoes, flashlights, and Bibles.
If you need to send medication, it MUST be sent in pre-packaged blister packs or in the original container.