DISCIPLESHIP
TRAINING PROGRAM

OUR GOAL
is to create an environment where Christians can learn and live out hard lessons like self denial, sacrificial love, and giving your all. We don't just teach Biblical truth; we seek to model it and to provide opportunities for our volunteers to exercise what they're learning in practical ways, all to the glory of God.
WHAT DO DTP STAFF DO?
The DTP staff are our core summer volunteers. They work as cabin leaders, activity leaders, dishwashers, cleaning crew and more. DTP staff are also involved in discipleship activities including two training sessions each day. We depend on these key volunteers to keep the camp running smoothly in areas where everyone can see as well as behind the scenes. 
OUR PROMISE TO DTP STAFF
We expect our staff to be committed to and active within their local church, growing spiritually in their own walk with Christ, and able to reflect the peace, joy, contentment, and love of Christ to those around them. Our DTP leadership is focused on creating opportunities for servant leadership and offer themselves as mentors to those who are looking for serious Christian discipleship. We promise to provide an environment that will challenge you in every way, giving you opportunities to learn, grow, and be humbled.
WHAT IS CAMP LIFE LIKE?
Daily life at a summer camp is exciting and upbeat but can also be tedious, difficult, and exhausting. We are looking for individuals who are flexible, able to work well with others, willing to take direction and physically able to withstand the rigours of an outdoor children's camp. 
We appreciate all of our volunteers and we do what we can to show it! At the end of the week, once campers have gone home and the property has been tidied up, we love to treat our staff to an evening at the lake for tubing, swimming, and relaxing while getting to know the rest of the volunteers better. Our staff who need to stay onsite between camps are strongly encouraged to get as much rest and quiet time as they can (those who can go home are asked to spend their weekend at home).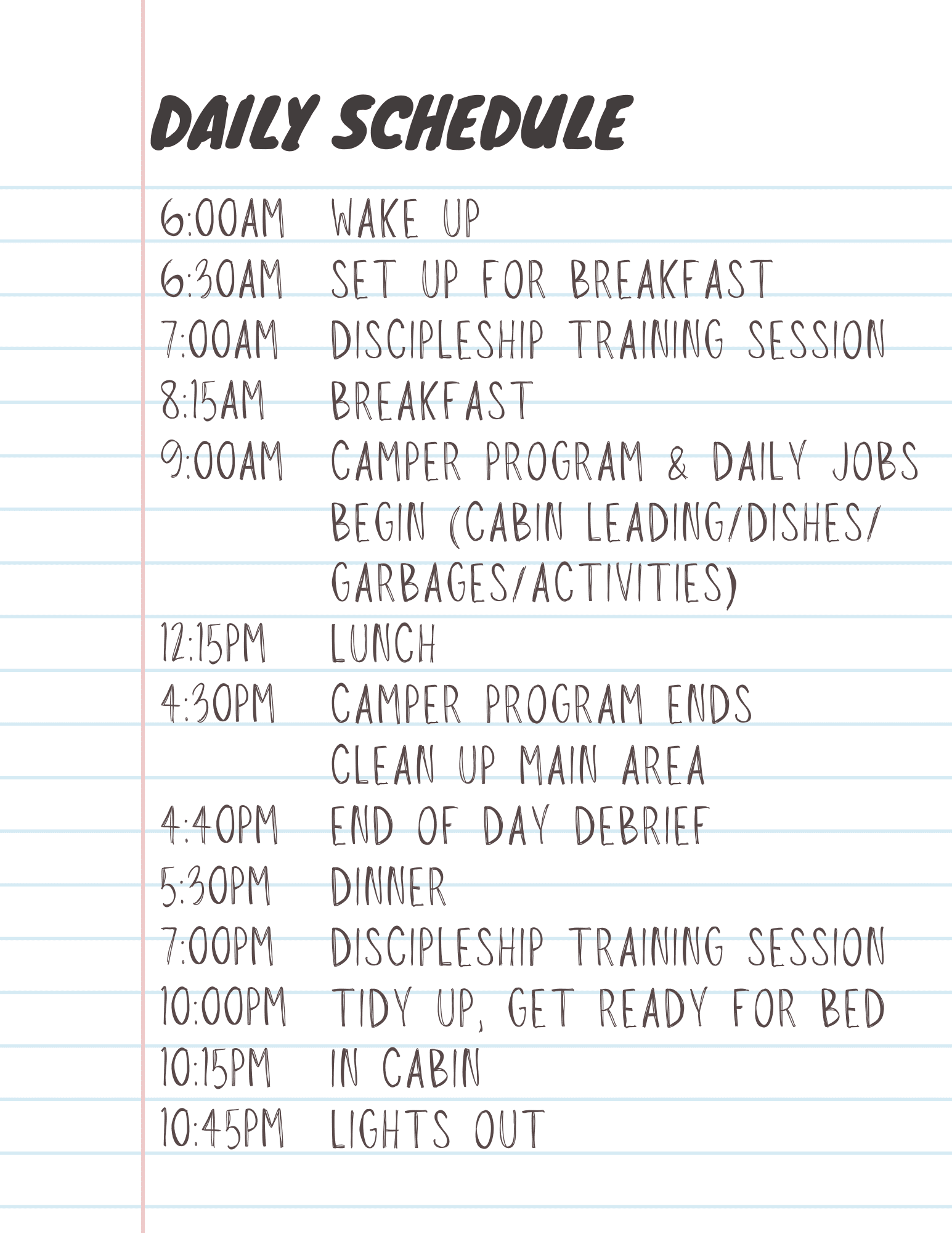 WHAT WE'RE LOOKING FOR 
Providing excellent care to the campers that we are entrusted with is very important to us. Caring for their physical, mental, emotional, and spiritual needs can be challenging and often requires a lot of patience, grace and mercy. We expect our staff to be mature, sincerely interested in the needs of those in their care, and looking to help create an environment where we can best care for our campers. 
Ready to dive in to serve, develop authentic relationships and grow in your faith? Apply to be part of the Discipleship Training Program today!
Successful applicants are preferred to attend one complete session (beginning with one week of staff training). Applicants must be 15 years of age or older. Applicants over the age of 18 must successfully complete a Criminal Record Check (see below).
Please note all those accepted into the Discipleship Training Program will be asked to donate $50 a week to MSBC to cover the cost of their meals.
Application deadline: May 31st
The maximum amount of weeks a volunteer may spend at camp is five weeks.
Session #1
Staff Training: July 10-14
Day Camp 1: July 17-21
Day Camp 2: July 24-28
Jr. Teen Girls: July 30 – August 4
Session #2
Staff Training: Aug 14-18
Jr. Teen Boys: Aug 20-25
Day Camp 3: Aug 28-Sept 1
CRIMINAL RECORD CHECK REQUIREMENT
In order to volunteer at Morning Star Bible Camp, a current Criminal Record Check (CRC) is required for all individuals over the age of 18. Volunteer applicants are encouraged to begin the Criminal Record Check process as soon as possible so that the paperwork is with our team before the camp start date. MSBC requires a new CRC from volunteers every four years.
Please note the eCRC process is BRAND NEW this year so it may take some a bit more time to navigate. The process is completed using your BC Services Card. Please follow the following steps to complete an eCRC:
If you have not already done so, please download the BC Services App and set up an account.
Once your identity has been verified (can take up to 48hours), head HERE and enter MSBC's Access Code to request an online eCRC: GKCFCTVEH8
Follow the steps as you are prompted.
The eCRC process is free, online and will take less than 5 minutes for most individuals. If you do not have a BC Services Card or have any trouble with the process, please contact [email protected].
The CRC process can take up to six weeks so begin the process as soon as possible!